How a 27 year old consultant ended up working from a beach in Mauritius
on 21 August 2018
for Professionals
Let's be honest here, if you were to picture yourself in your next IT job, would there be any palm trees, sandy beaches and clear blue water in the frame?  The answer is probably no, unless you work for an awesome employer who sends you on a mission to a tropical island. That is exactly what happened to lucky bastard and Exellyst Arvid who spent 3,5 weeks in Mauritius on an assignment for BrightKnight!
How is that possible?
Our thoughts exactly! Except we kind of, entirely, are somewhat responsible for matching him with BrightKnight… So, come to think of it now, we actually hooked him up with his dream job. And that resulted in a "working" holiday… man! Arvid, you owe us big time! 😉 We're just kidding, but please, the least you can do is fill us in on your adventure abroad. Time for a chat!
Arvid, we're dying to know: how does a 27-year-old Master in Business Administration end up on the other side of the globe?
"I've been with Exellys for over 10 months now and you guys matched me with BrightKnight where I work as an RPA consultant and developer. From the very start, BrightKnight made me work on consultancy projects at SDWorx and so it happened that SDWorx needed me to train their staff of developers in Mauritius."
That sounds a bit too easy, let's delve a bit deeper: why did they choose you?
"The training SDWorx required, concerned one of BrightKnights key tools called BluePrism. As you know, BrightKnight is a renowned Robotics Processing Automation (RPA) provider and I am the lead RPA developer and architecture lead on that specific project… it just made sense that they assigned the task to me. I know the tool like the back of my hand and I am experienced in consulting clients when it comes to RPA. Although I do more than consulting alone! It's important to mention that BrightKnight offers the full package: from setup, over training to the handover."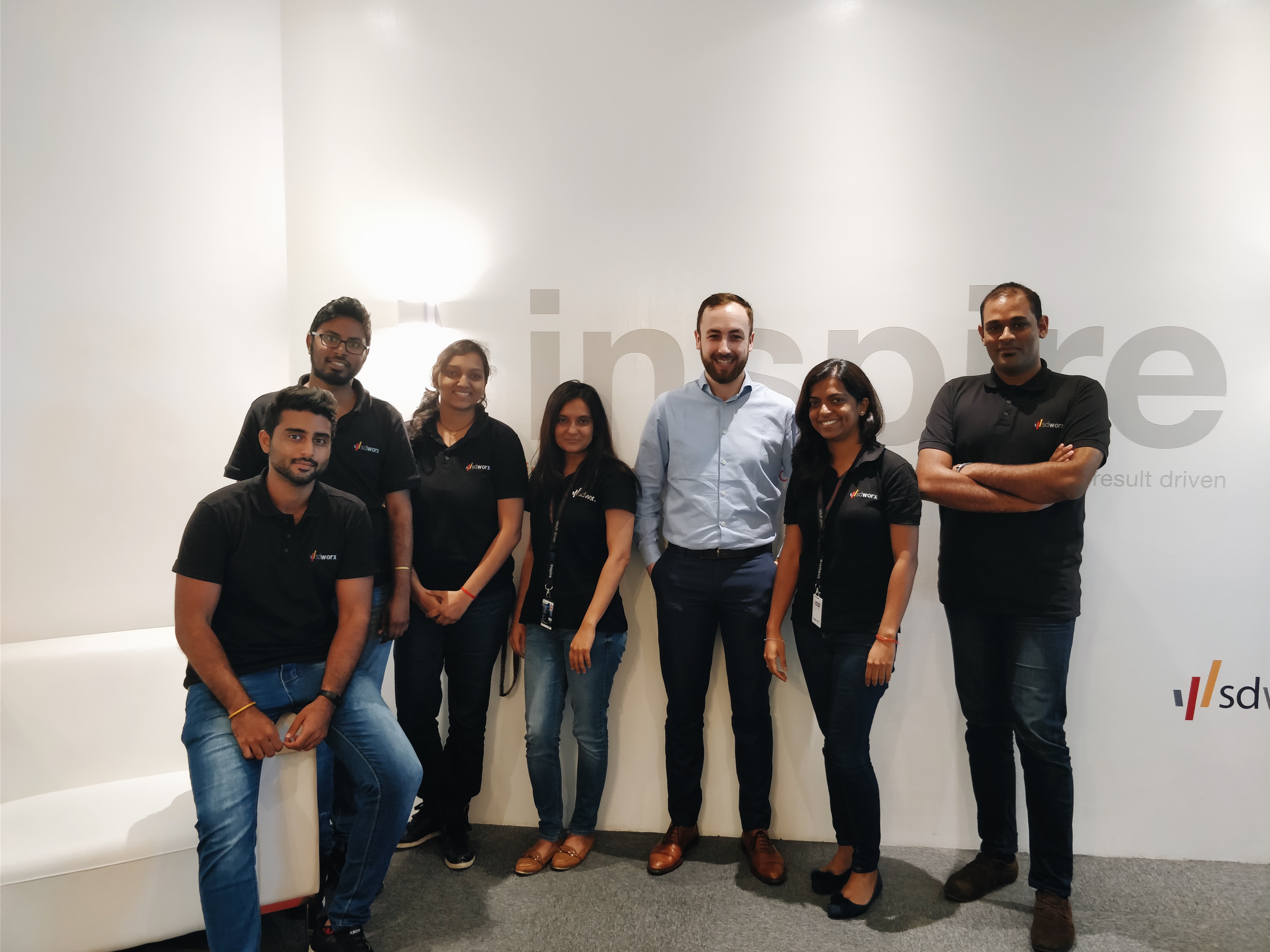 How did you gain experience in giving training?
"Together with a colleague of mine, we are responsible for giving training to internal staff at BrightKnight. That developed over time into providing training for external stakeholders and clients as well. It even took on a life of its own seeing we introduced the BrightKnight Academy! It's a framework for the onboarding of new joiners but in time it will also be made available for clients. During my time as a student worker I also trained and coached the employees of and event staffing agency. So that experience definitely helped as well."
Sounds like a steep learning curve for someone coming from a non-IT background!
"It sure is, but that's what makes it interesting. I really am grateful Exellys gave me the chance to prove myself. You guys hired me even though I didn't tick all the boxes. I mean I come from a business background with limited technical IT knowledge. You truly lived up to the Exellys motto: hire for attitude and train for skill. Because you believed in me, it made me even more determined to excel. Thanks to the Exellys Start Smart Programme, I quickly gained the technical knowledge I lacked and proved my worth at BrightKnight. You made me step out of my comfort zone time and again and your approach even inspired me in the way I give training. And yeah, I look forward to learning a lot more from my Exellys coach and Talent Development Manager Steven to complete my transition from graduate to professional."
Now, tell us all about Mauritius, how has it been?
"I loved every second of it. I was very fortunate to train a highly motivated group of developers. They really wanted to get ahead and it was quite rewarding to help them do so. I have worked on assignments for SDWorx from the very start of my career at BrightKnight and chances are this will remain a long-term collaboration. Being there, meeting the people I work with face-to-face makes it more agreeable for both parties. And of course, it was not all work (winks), I had my fair share of spare time during which I rented a car and explored the whole of Mauritius. It's not that big of an island so you can easily drive from one end to the other in less than two hours. I didn't feel out of place or lonely at all, not even once. The people I got to work with were incredibly welcoming: they took me to see the beach or the mountains, to dinner, we oftentimes went for drinks and I even got invited to a traditional Mauritian wedding! Needless to say, I had a great time over there."
It sure sounds like it! Thank you Arvid, for sharing your story and for being part of our awesome Exellys class of 2017!
Has Arvid's story sparked your interest? Did you recently graduate or do you have no more than 3 years of working experience? Exellys is always on the lookout for young and ambitious IT talent, let's talk!
Shoot our IT Talent Scout Astrid an e-mail at astrid.roest@exellys.com with your motivation and resumé and who knows, we might see you sooner rather than later!
About our partner BrightKnight
BrightKnight is established in 2017 as a fintech start-up of the Belfius Studio. They specialize in process automation to provide better customer experience, productivity and cost reduction. BrightKnight combines Robotic Process Automation (RPA) technology and expertise with NLP and OCR solutions to design complete automated solutions. Their game changer technology automates repetitive tasks to free employees and to deliver real added value while guaranteeing accurate results and faster processing times.
About Exellys
Exellys is a Tech Talent Incubator. We match ambitious companies with the finest tech talent. Are you ready to drive the innovations of tomorrow? Ready to make an impact and become a future-fit digital leader?
Whether you are a graduate or (young) professional, Exellys will unlock your full potential by guiding you to a challenging work environment that perfectly matches your personality, expectations and ambitions.
On top of that, you are enrolled in one of our very own training and coaching programs. This means that, while working as an Exellys consultant, we are helping you to bridge your ambition to excellence.
Through intensive training and coaching, you'll gain the essential skills, competencies and knowledge necessary to become the highly effective professional you aim to be.
Become an Exellyst and get in touch with us today!
Tags: career , company culture , consultancy , exellyst , exellyst story , innovation , international , techie