The ultimate guide to finding a Blockchain job in 2018
on 6 March 2018
for Professionals
In the simplest terms, blockchain is a technology that enables people to move digital currencies such as bitcoin between each other without having to use a trusted third party such as a bank. Blockchains are shared digital log files that aim to make transactions faster, cheaper and more accessible. As such, this technology has the potential to disrupt establish industries such as banking. For instance, why should people who want to make cross-border payments wait up to three days for a transfer to complete when a blockchain transfer is almost instant? However, as our resident expert Robbert outlined in a recent blog post, blockchain technology could potentially disrupt almost every major industry from the banking sector to real estate, cyber security and even voting systems.
We've been fielding many questions and enquiries over the past few months from people who want to know about blockchain-related jobs. Given that this particular market is growing exponentially with a plethora of companies developing blockchain technologies, wanting to get involved is natural. If you are thinking of making a career change, this guide will supercharge your move off the sidelines and into the thick of this exciting space.
The Top 5 In-Demand Skills You Need to Have
Current best practice for firms in this field is to hire strong developers who have a solid understanding of blockchain technology. The five most in-demand skills for blockchain jobs are:
A background in computer science and/or computer engineering is essential.
Strong software development or engineering skills are prerequisites for many blockchain-related positions.
Developers need proven experience in back-end developer roles.
Candidates with a functional knowledge of cryptography will have an edge over the competition.
A comprehensive knowledge of programming is one of the core pillars of a successful career in blockchain. The language possibilities are endless but some worth mentioning are Java, Go, Solidity, Python, Javascript and C++..
5 Amazing Career Paths to Explore Right Now
It's easy to get a job in blockchain if you are a programmer as there are many blockchain projects and a large number of companies who want to start initial coin offerings (ICOs). It's much harder for candidates with no programming experience to enter this field, although possibilities do exist. Here are five amazing career paths to explore in 2018.
Build your own company: Creating your own startup is something you may consider. The space needs many more innovators and entrepreneurs and this may be you. So what are you waiting for?
Joining an existing startup: Your next best route is to join an existing startup. You'll note that just as with any other company they have a range of positions to fill. Their team includes a marketer, an administrator and even a community advocate, alongside cryptographers, data scientists and software engineers. If you already have qualifications and experience in an applicable sector, joining an existing company could be a path worth exploring.
Become a blockchain developer: If you are looking for a step-by-step guide to becoming a blockchain developer, you'll notice that these roles are only open to conventional developers with computer science or engineering backgrounds. These roles revolve around developing blockchain networks, writing smart contracts and integrating enterprise applications.
Become a blockchain architect: A blockchain architect is essentially a project manager and these roles would suit anyone with a background in project management. Blockchain architects provide a link between the customer and the development team, meaning that you'll need to be well versed in decentralized technology and able to translate technical language into layman's terms.
Community support: This is one example of a career path for individuals who lack programming experience. As evidenced by the 'community advocate' position mentioned above, there are roles for individuals who can troubleshoot problems that users are likely to have. These roles may include answering questions, writing, editing and content strategies. However, candidates with a programming or developing background will be given preference over those without.
4 Killer Strategies for Finding a Job in Blockchain Fast
As noted above, finding work in this sector is far simpler for programmers. Provided you are active and visible on networking sites such as LinkedIn, the job offers and opportunities will likely come to you. Nevertheless, here are four sure-fire strategies for landing your dream job.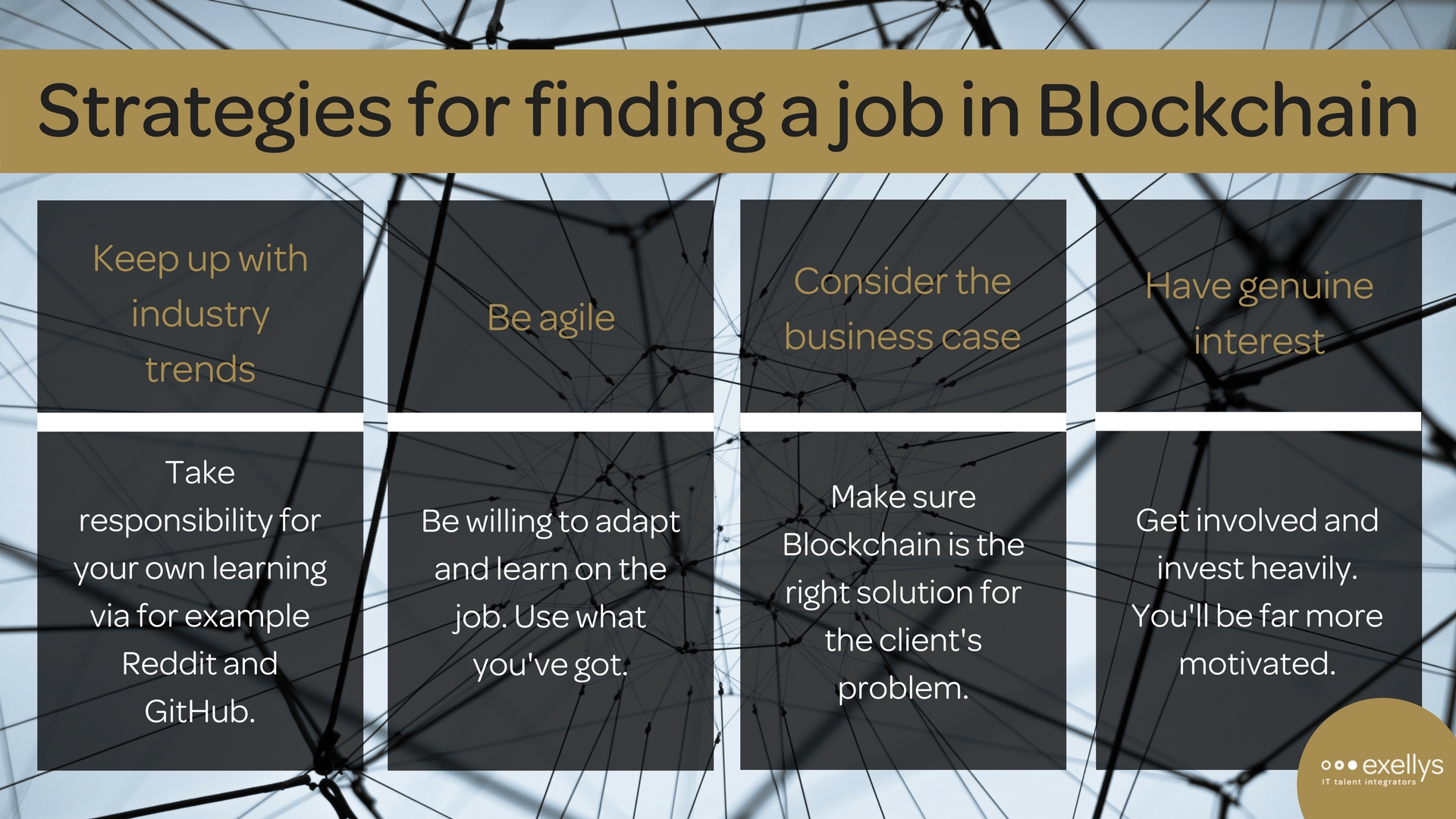 Keep up with industry trends: One of the best strategies is to take responsibility for own learning via sites such as Reddit and GitHub. Learning from peers and keeping abreast of the latest programming languages and codes is one of the best ways to get hired.
Be agile: Self-education is a necessity for anyone looking to move into blockchain. You must be willing to adapt and learn on the job. Don't be scared that you might not have all the necessary experience, use what you've got.
Consider the business case: When working with blockchain technology, it's extremely important to consider the business case for any startup or company. While Initial Coin Offerings (ICOs) literally dominated the business scene throughout last year, 2018 will see far more caution from investors. When you consider the key value proposition(s) of the technology behind any blockchain company, don't neglect to consider whether it has any real-world business applications.
Have a genuine interest: If you really want to succeed, it's advisable to get involved with a project you like. You must network, build relationships and invest heavily. You'll be far more motivated if you work on an area of genuine interest.
Act Now to Find Your Dream Position!
The blockchain industry is still in its infancy meaning that while major disruption to other industries is possible, we're still some way off. In you are interested in moving into the blockchain sector, hopefully this post has given you some helpful pointers as to what your next steps could be. As talent nurturers, here at Exellys we are helping to drive a digital transformation by helping the right people find the right positions.
Looking to find out more about what blockchain technology could mean for your career? Contact us today or find us on Facebook or LinkedIn for some snackable tips on how to future proof yourself!
Tags: blockchain , career , digitalization , job hunt , techie