Be smart about your career by starting smart
on 10 July 2018
for Graduates
'T is gebeurd: our Class of 2016 successfully concluded the two-year Start Smart Programme at Exellys! We're still a bit teary, but ever so proud of our graduates. It was a pleasure seeing and helping them grow into the confident young professionals they are today. Bright, competent, ambitious and ready for world domination. Okay – we got a bit carried away there – but still, their employers are damn lucky to have them on their team!
Congratulations Dieter, Kevin, Dries, Steven, Jeroen, Katrien, Cedric, Karl, Nicolas, Quinten, Arnor, Maxim, Bart, Giuseppe, Wim, Wout,  Rosalie, Joris, Michiel, Cédric, Pieter, Rebekka, Wim, Zout, Niels, Astrid & Wouter!
Graduating graduates? Two-year programme? Start Smart? What is that all about?
Do you find it puzzling that we put graduates back in class? To us at Exellys and to our Exellysts, it makes perfect sense. You see, there is a huge gap between academic knowledge and experience on the job. You might have gotten through college easily and graduated with honors, but putting that theory into practice is something else. Not to mention interpersonal skills, professional communication techniques, coping with expectations from different stakeholders… For many graduates, the whole process of finding the right job at the right company is in itself nerve-racking. And who can blame them? As a graduate you are just starting to get to know yourself professionally.
It is safe to say this is a challenging period, but luckily, you don't have to go through all of that on your own. Exellys helps you to be smart about your career by bridging the gap to your professional life with our Start Smart Programme.
3 stages to bridge the gap from graduate to professional
1.    Find your match
When joining Exellys, the first thing we'll do, is help you choose the right job at the right company. We do so by extensive analysis of your hard and soft skills, always putting your professional and personal ambition first.
2.    Start Smart
After having found the perfect professional match, we don't let you fend for yourself. We take you under our wing for two years with the Exellys Start Smart coaching and training programme.
3.    Fly high
Once you've gained the skills, competencies and knowledge necessary to become the best possible professional you can be, you'll be able to shed your Exellys Consultant skin and become an internal employee at the company you work for.
The Start Smart Programme in a nutshell
What to expect from our Start Smart Programme? Well, the approach is twofold: on the one hand we train your hard and your soft skills. On the other hand, we coach you on both a professional and personal level.
Training
Apart from the mandatory programme, you are able to choose from a wide variety of optional courses, all depending on which skills you wish to develop. And don't worry, you won't have to hit the books again! You'll experience different learning formats (classroom trainings, business games, hackathons, etc.), all highly dynamic, interactive and a lot of fun.
Coaching
When it comes to coaching, you will literally have a personal coach at your disposal, guiding and supporting you at every step of the way. He or she will keep track of your progress and will look after your well-being at the company you work for.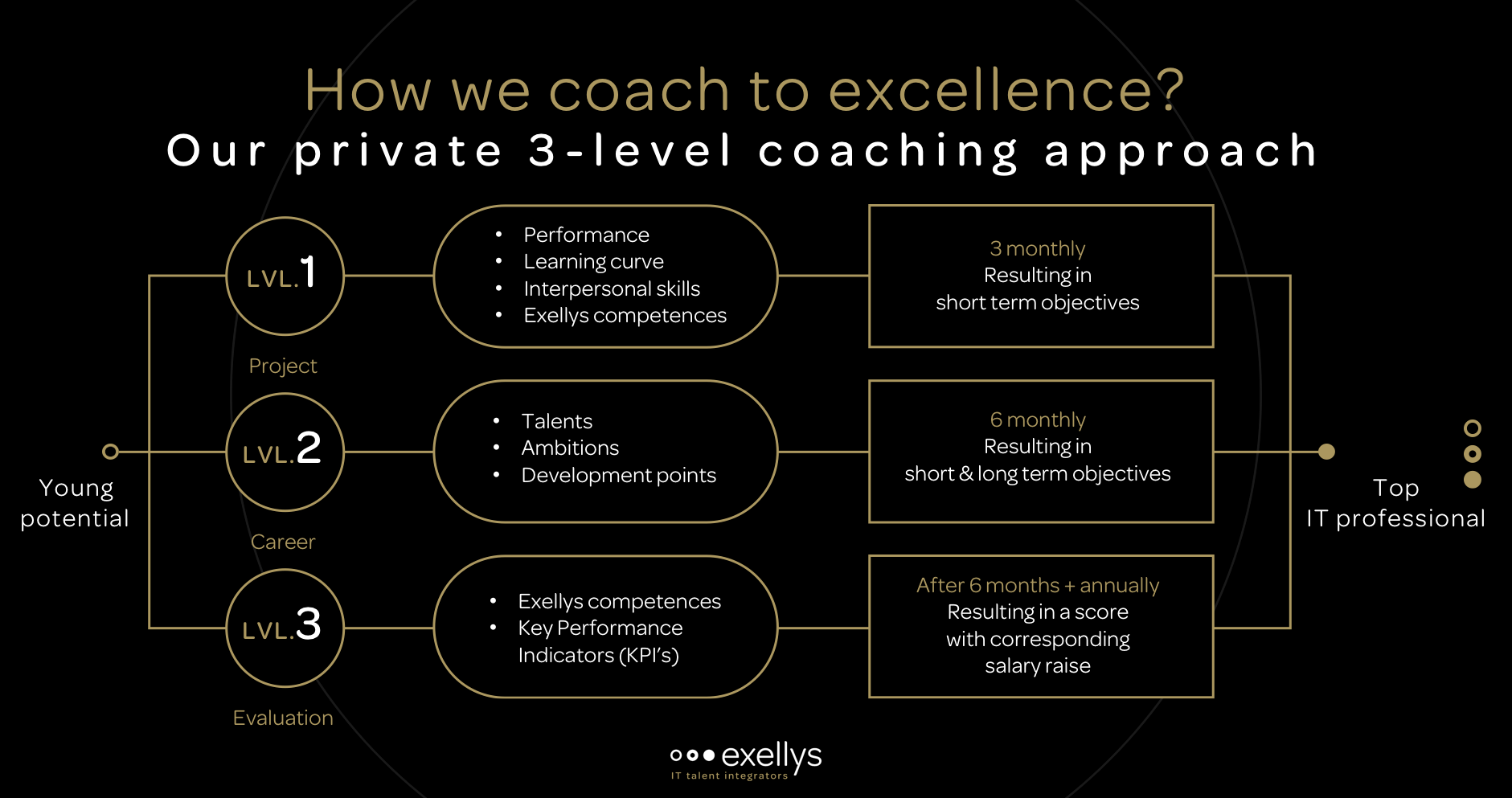 Testimonials, please!
Pieter, Business Analyst at Umicore
"Umicore is a huge international company, and a very exciting place to work at.  I don't think I would have been able to secure a permanent spot there if it wasn't for Exellys. The Start Smart Programme helped me a lot with developing my non-technical skills. I got to know myself better during the last two years and I experienced a lot of personal growth. The most important element I take away from this experience it to positively embrace feedback and to use it to my advantage."
Rosalie, Software Developer at ING
"The Start Smart Programme gave me the confidence I needed to take ownership and to show pride in my work. It really is a safety net where you can fail forward. The mere fact that I was able to share my experiences as a starting professional with peers, helped me reduce the pressure. And having had a coach by my side to provide guidance when needed was valuable beyond measure."
Astrid, IT Talent Scout at Exellys
"After two years, my position within Exellys evolved, and I myself am not the same person I was when I first started. I count myself lucky to have enjoyed such a great group atmosphere during the programme. We're all starters, we're all in the same boat going through the same experiences. Sharing best practices made it easier to deal with our professional struggles."
Cédric, Development Consultant at Ferranti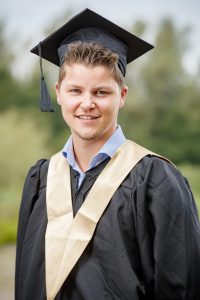 "When I started working for Ferranti, I found myself in a challenging environment and in a sector that was new to me. I'm very grateful to have had my Exellys coach by my side to support me when I had to make important decisions. He was my sparring partner, for both professional and personal issues. The Start Smart Programme truly jumpstarted my career and pushed me to be the best I can be."
Bart, Project Manager at Bridgestone
"A steep learning curve is the best way to describe the last two years. Exellys is a very supportive environment where you can freely speak your mind. The openness of my coach and her confidence in my professional abilities made a huge impact. I learnt how to effectively communicate with different stakeholders. I find it easier to reach out and it has already paid off: I managed to secure a project that also involves quite a lot of graphic design, which I love. And I also embraced Exellys' credo in my everyday life: I am proud to say I GET SHIT DONE!"
Wim, BI consultant at ING
"Over the last two years, I gradually gained more responsibility within my position at ING.  I am a project lead now and I hope to develop more into the role over the next few years. It took quite some convincing from my Exellys coach to give it a try, but I'm very happy she persisted. My coach saw my potential and she pushed me out of my comfort zone. The programme really helped me with my communication and presentation skills. By polishing both my hard and soft skills I learnt how to create opportunities for myself. And now that I've graduated, I do not only feel more empowered to take on the future, I also built a solid network of like-minded professionals."
Let's start!
Have we sparked your interest? Head over to our website and have a better look at what the Exellys Start Smart programme is about. Bridging ambition to excellence is what we do every day and if you're convinced that this might be for you then we'd love to hear about it. Get in touch with us today and Start Smart!
Tags: career , company culture , exellyst , start smart , talent retention , video